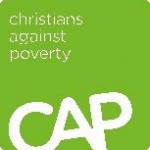 The only way out of debt for many people is to get help from an organisation like CAP – Christians Against Poverty.  CAP is a charity and there is no charge for its services.
Because we believe that God does not want people to be crippled by debt, we run a CAP Centre here at Holy Trinity.
In partnership with CAP, we visit you, assess your situation , set a realistic budget, and support you in setting a portion aside to pay off your debts.  If you need to go through insolvency, CAP will also support you in this.  CAP will negotiate with all your creditors, relieving the stress of constant phone calls and letters.
Every Friday we run a drop-in from 12.30-2.30, when you can come and find out more about CAP and how we can support you through financial difficulty. We also run the CAP Money Course, which is offers a simple tool to help you get your money under control.
If you would like more information, just call 0800 328 0006.